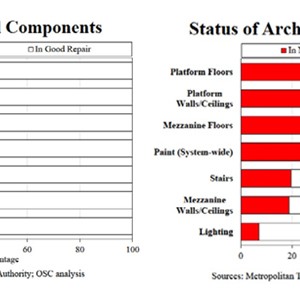 OFFICE OF THE NEW YORK STATE COMPTROLLER
The New York City subway system includes 468 passenger stations, which are used by 5.5 million riders each weekday. The system is operated by New York City Transit (NYCT), the largest subsidiary of the Metropolitan Transportation Authority. Over the past 32 years, NYCT has renovated 241 subway stations at a cost of $4.5 billion as part of its station rehabilitation programs. Under these programs, each station was fully renovated to a state of good repair, including structural and architectural components. Once the work was completed, however, NYCT moved on to the next station for rehabilitation without committing the resources to maintain the renovated stations.
View this complete post...