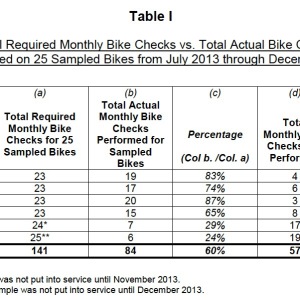 THE CITY OF NEW YORK OFFICE OF THE COMPTROLLER
During the audit period, NYCBS failed to maintain Citi Bike program equipment (bikes and stations) as required by its contract with DOT and its own internal operating procedures. Specifically, NYCBS did not: (1) perform maintenance checks on all bicycles on a monthly basis; (2) perform station inspections twice per week; (3) ensure that on-street maintenance checks of bikes were properly documented; (4) respond within the required timeframes to cleanliness issues with bicycles and stations after discovery or notification of problems; and (5) maintain connectivity of stations to its main database at required levels. As a result of these deficiencies, the riding public is exposed to increased safety risks and customer satisfaction is potentially jeopardized.
View this complete Infra Views post...