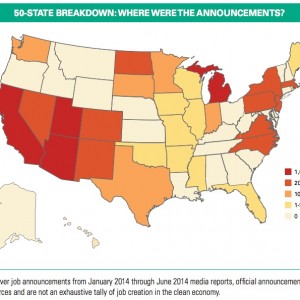 ENVIRONMENTAL ENTREPRENEURS
More than 12,500 clean energy and clean transportation jobs and clean transportation were announced in 29 states in the second quarter of 2014. This is more than twice the number of jobs announced in the first quarter of the year. Solar generation once again led all sectors — with more than 5,300 jobs announced — as declining module prices and growing private-sector investment expanded job opportunities in the industry. Meanwhile, the wind industry announced about 2,700 jobs, mostly because projects that qualified for the recently expired Production Tax Credit began construction. Wind manufacturers, including Vestas in Colorado and Gearbox Express in Wisconsin, reported hiring additional manufacturing employees to match turbine demand. The biggest hiring boost to the U.S. clean energy manufacturing sector came from the automotive industry, with General Motors and Tesla announcing 1,900 manufacturing jobs to produce electric vehicles.
View this complete post...