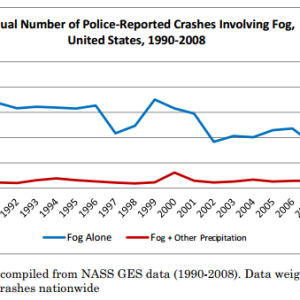 AAA FOUNDATION FOR TRAFFIC SAFETY
Fog presents numerous challenges to motorists. By definition, it reduces visibility to less than 5/8-mile, and, as fog obscures details of the driving environment and reduces contrast, drivers have difficulty accurately perceiving certain things that are crucial for safe driving, such as depth and speed. Moreover, because high beams reflect off of the suspended water droplets that fog comprises and actually make it harder to see, drivers are deprived of a tool that is useful in other low-visibility situations.
View this complete post...