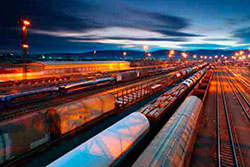 HOUSE COMMITTEE ON TRANSPORTATION & INFRASTRUCTURE
The Panel on 21st Century Freight Transportation conducted hearings, held roundtable discussions, and traveled
to key freight corridors across the United States to gain insight into the current state of freight transportation and
how improving freight transportation can strengthen the economy. The Panel identified many challenges and
impediments to the efficient and safe movement of goods into, out of, and through the United States.
View this complete post...