Archive for the 'Policy' Category
Monday, March 2nd, 2015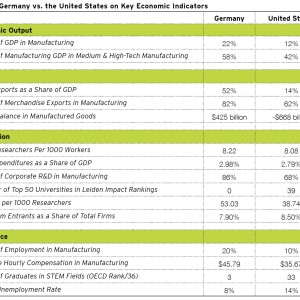 BROOKINGS INSTITUTION
METROPOLITAN POLICY PROGRAM
Germany is an oft-cited example of an advanced economy that has been able to sustain manufacturing as a relevant source of employment, growth, and exports. Manufacturing in Germany accounts for 20 percent of employment, nearly twice the share as in the United States, and generates 22 percent of national GDP and 82 percent of total goods exports. German manufacturing succeeds in the global marketplace even as the sector pays higher average wages than in the United States.
View this complete post...
Polls
Polls
Is the administration moving fast enough on Infra issues? Are Americans prepared to pay more taxes for repairs? Should job creation be the guiding determination? Vote now!
Blog
The Infra Blog offers cutting edge perspective on a broad spectrum of Infra topics. Frequent updates and provocative posts highlight hot button topics -- essential ingredients of a national Infra dialogue.
---