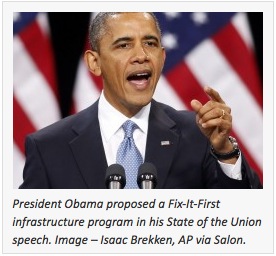 Transportation Issues Daily
Surprising many of us, President Obama proposed two new infrastructure programs in his State of the Union speech earlier this evening.
A "Fix-It-First" program would focus on putting "people to work as soon as possible on our most urgent repairs" like deteriorating bridges and roads. A "Partnership to Rebuild America" would attract private capital to upgrade port infrastructure, pipelines, schools, and likely other infrastructure.
View this complete post...