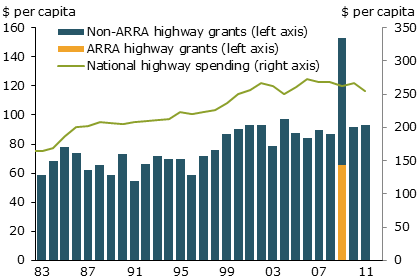 FEDERAL RESERVE BANK OF SAN FRANCISCO
ECONOMIC RESEARCH DEPARTMENT
During the Great Recession, a surge in federal government spending was one option frequently called for as a means to sustain and stimulate the economy. Given the substantial perceived need for infrastructure improvements, many commentators argued that highways should be near the front of the line for any stimulus dollars. It is no surprise then that the 2009 fiscal stimulus package known as the American Recovery and Reinvestment Act (ARRA) contained $48 billion in transportation funding, $27 billion specifically for roads. These funds generally took the form of grants to state governments and were in addition to the usual federal transportation grants sent to state governments every year from the national Highway Trust Fund. Thanks to ARRA, federal highway grants to states jumped nearly 75% in 2009. Still, road spending by state and local governments nationwide—which is the source of virtually all road spending in the United States—was roughly flat between 2008 and 2011.
View this complete post...