SMART GROWTH AMERICA
NATURAL RESOURCES DEFENSE COUNCIL
Executive Summary
With a comprehensive climate bill stalled at the federal level, many are turning to the states to make progress toward reducing carbon emissions. Are the states ready? To succeed, many sectors will need to reduce their carbon emissions. This report examines what states are doing to curb emissions caused by transportation. As such, it is the first report to look at state transportation policy as it affects greenhouse gas emissions and compare performance across the states.
State transportation policy has the potential to significantly reduce greenhouse gas (GHG) emissions while also effectively meeting the nation's wide-ranging mobility needs. Few studies have specifically sought to evaluate how states' transportation policies impact GHG emissions. This report seeks to build on the work of Moving Cooler, a 2009 report by Cambridge Systematics, which quantified the carbon reduction benefits of various transportation strategies. The analysis here evaluates how well state-level transportation decisions are aligned with efforts to reduce GHG emissions by examining a selection of key transportation policies currently in place in the 50 states. The findings suggest that there is tremendous potential for states to make progress on reducing transportation-related carbon emissions. The report's recommendations suggest ways states can improve their climate performance while meeting their mobility needs.
Greenhouse Gases From Transportation Are a Growing Problem
Presidents Barack Obama, George W. Bush, Bill Clinton, and George H.W. Bush have each called for reductions in GHG emissions, yet nationwide emission rates have steadily increased, rising 27 percent between 1990 and 2007. Nearly half of the net increase has been due to increasing emissions from the transportation sector, which today accounts for 32 percent of the country's total carbon emissions according to the U.S. Energy Information Administration. Without bringing down transportation emissions, it will be impossible to achieve the reductions scientists have deemed necessary to avoid the worst effects of climate change. Between 1977 and 2001, driving in the United States measured in vehicle miles traveled (VMT), grew by 151 percent. Average trip lengths, trips per capita and the proportion of drivers traveling alone also increased, all of which have contributed to rising emission rates.
Innovations leading to more efficient vehicles and new, cleaner fuels could mean large reductions in GHG emissions, but the projected 50 percent increase in VMT between 2005 and 2030 would undermine much of the savings these technologies would earn. Without changes to the transportation sector, it will be impossible to achieve the emissions reductions necessary to avoid the worst effects of climate change.
State Transportation Policies Do Not Manage Carbon Emissions, and Often Make Them Worse
States are in a unique position to bring down transportation-related GHG emissions, given their primary role in setting statewide transportation policy and directing large amounts of transportation funding. This report seeks to better understand the patterns and impacts of current state transportation policies and investment decisions in all 50 states.
The results of the analysis are sobering: most states use few of the available transportation policy tools to reduce GHG emissions from the transportation sector, and in most cases make decisions that will likely increase emissions. No state received a higher grade than "B-," and most states scored lower than "D," demonstrating a lack of alignment between transportation and climate policies. Most states do not make any effort at all to connect transportation policy with climate change and energy goals, and some put in place systems that effectively sabotage these goals. In sum, current transportation policy in most states will likely worsen GHG emission trends in the United States.
…
Click Below to Enlarge: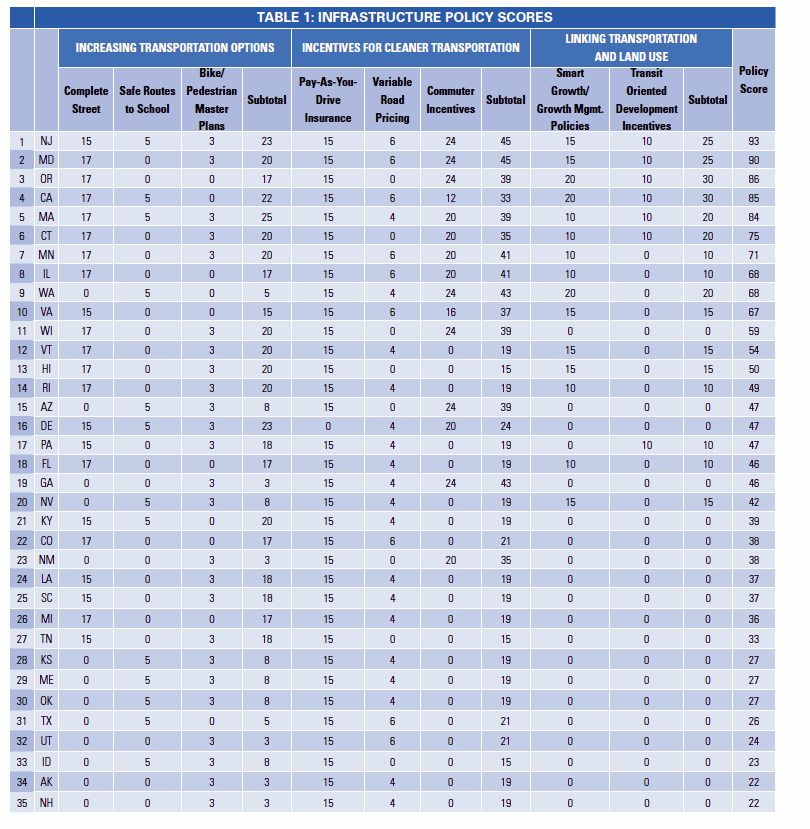 Download full version (PDF): Getting Back on Track
About Smart Growth America
www.smartgrowthamerica.org
Smart Growth America is the only national organization dedicated to researching, advocating for and leading coalitions to bring smart growth practices to more communities nationwide. From providing more sidewalks so people can walk to their town center to ensuring that more homes are built near public transit or that productive farms remain a part of our communities, smart growth helps make sure people across the nation can live in great neighborhoods.
About the Natural Resources Defense Council
www.nrdc.org
"The Natural Resources Defense Council is an international nonprofit environmental organization with more than 1.3 million members and online activists. Since 1970, our lawyers, scientists, and other environmental specialists have worked to protect the world's natural resources, public health, and the environment. NRDC has offices in New York City, Washington, D.C., Los Angeles, San Francisco, Montana, and Beijing."
Tags: GHG Emissions, Natural Resources Defense Council, New York, New York City, NY, NYC, Smart Growth America