AMERICA 2050 & REGIONAL PLAN ASSOCIATION
Over the next generation, the 13-state Northeast Megaregion is expected to grow by 26%, adding about 18 million residents. To assess the implications of this change for landscape conservation, Regional Plan Association and America 2050's Northeast Landscape Initiatives Atlas now includes maps showing historic and current land use, and projections of future urban growth in the Northeast Megaregion through 2040.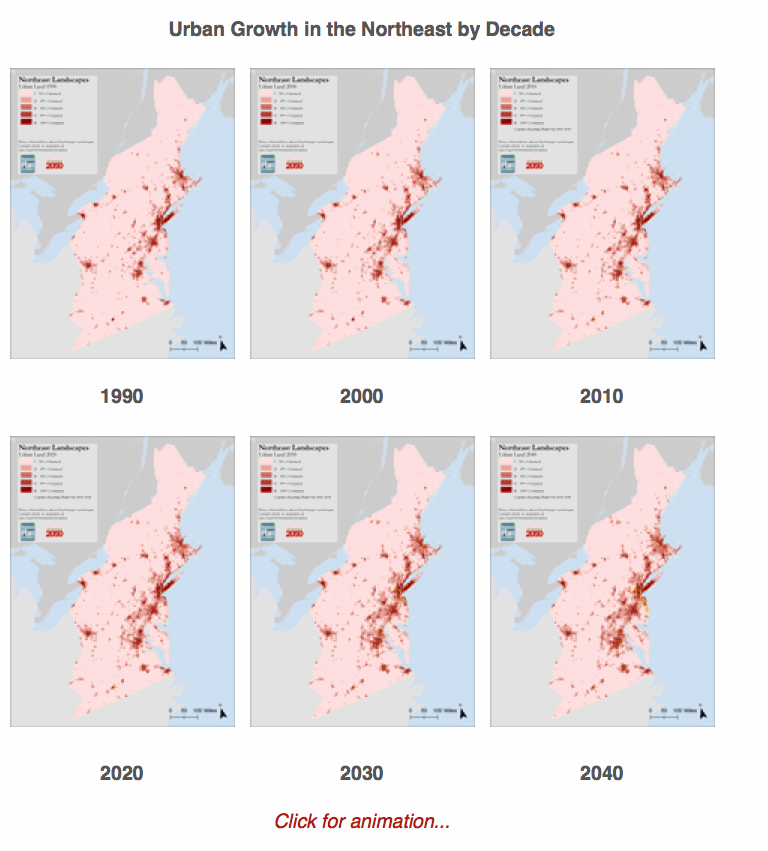 The land use maps are part of an ongoing effort by RPA and America 2050.  We are evaluating the results of our urban development models in order to help the more than 145 individual landscape conservation initiatives succeed in their efforts by identifying complimentary projects and land use trends in surrounding areas.
For example, population growth and expansion of urban and suburban areas will affect the region through landscape conversion, construction of new roads, increase in impervious surfaces, and fragmentation of natural systems.  But these development pressures will not affect the region uniformly.  Better understanding these challenges will help initiatives prioritize their objectives and implement strategies that are responsive to on the ground conditions and that are focused at the appropriate geographic scale.
View full post (America2050.org): Urban Growth in the Northeast Megaregion
About America 2050
www.america2050.org
"America 2050 is a national initiative [in collaboration with Regional Plan Association] to meet the infrastructure, economic development and environmental challenges of the nation as we prepare to add about 130 million additional Americans by the year 2050.  America 2050 is guided by the National Committee for America 2050, a coalition of regional planners, scholars, and policy-makers to develop a framework for the nation's future growth."
About Regional Plan Association
www.rpa.org
"Regional Plan Association is America's oldest and most distinguished independent urban research and advocacy group. Now in its 86th year, RPA prepares long range plans and policies to guide the growth and development of the New York- New Jersey-Connecticut metropolitan region. RPA also provides leadership on national infrastructure, sustainability, and competitiveness concerns. RPA enjoys broad support from the region's and nation's business, philanthropic, civic, and planning communities."
Tags: America2050, Northeast Corridor, Regional Plan Association, RPA