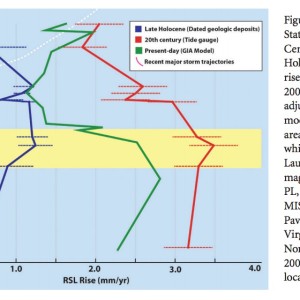 GEOLOGICAL SOCIETY OF AMERICA
Today, relative sea-level rise (3.4 mm/yr) is faster in the Chesapeake Bay region than any other location on the Atlantic coast of North America, and twice the global average eustatic rate (1.7 mm/yr). Dated interglacial deposits suggest that relative sea levels in the Chesapeake Bay region deviate from global trends over a range of timescales…The sea level for any location at a given point in time represents a sum of factors, including the volume of ocean water, steric (thermal) effects, tectonic activity, and crustal deformation in response to glacio-hydro-isostatic adjustment (GIA) from loading and unloading of continental ice and water masses (Church et al., 2010).
View this complete post...