Posts Tagged 'ULI'
Friday, November 15th, 2013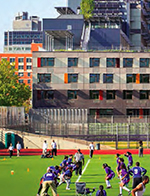 URBAN LAND INSTITUTE
Intersections: Health and the Built Environment explores the relationship between how healthy we are and the way our buildings and communities function. We can build our way to better health, it proposes, by changing our approach to cities, communities, and places. As real estate leaders and stewards of the built environment, we can do more to improve lives and foster healthy outcomes. And along the way, we can create places of enduring value.
View this complete post...
Polls
Polls
Is the administration moving fast enough on Infra issues? Are Americans prepared to pay more taxes for repairs? Should job creation be the guiding determination? Vote now!
Blog
The Infra Blog offers cutting edge perspective on a broad spectrum of Infra topics. Frequent updates and provocative posts highlight hot button topics -- essential ingredients of a national Infra dialogue.
---