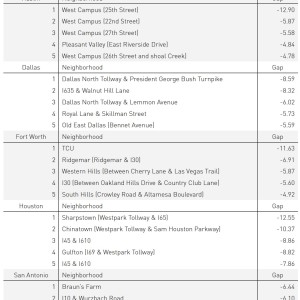 CENTER FOR SUSTAINABLE DEVELOPMENT
UNIVERSITY OF TEXAS AT AUSTIN SCHOOL OF ARCHITECTURE
This study builds on previous research that has been done on "transit deserts." This concept is similar to the popular and thoroughly studied concept of a "food desert," which is a geographic area where there is no or limited access to fresh food (Clark et al. 2002; Jiao et al. 2012; Whelan et al. 2002; Wrigley 1993; Wrigley et al. 2002). The food desert concept has received a lot of attention and influenced planning policies and practices. By applying the same idea to transit systems within urban areas, geographic areas can be identified where there is a lack of transit service. There are three main steps to this process. This involves identifying the transit dependent populations as a measure of transit demand, calculating the transit supply, and then subtracting the supply from the demand to measure the gap (Jiao & Dillivan 2013).
View this complete post...