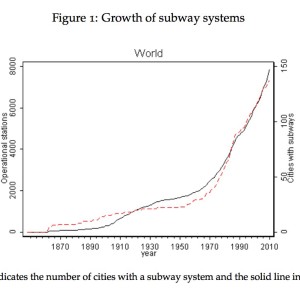 UNIVERSITY OF TORONTO
BROWN UNIVERSITY
We investigate the relationship between the extent of a city's subway network and its population, transit ridership and spatial configuration. To accomplish this investigation, for the 632 largest cities in the world we construct panel data describing population, total light, measures of centralization calculated from lights at night data, and the extent of each of the 138 subway systems in these cities. For a subset of these subway cities we also assemble panel data describing bus and subway ridership.
View this complete post...