Posts Tagged 'Smart Growth America'
Tuesday, May 20th, 2014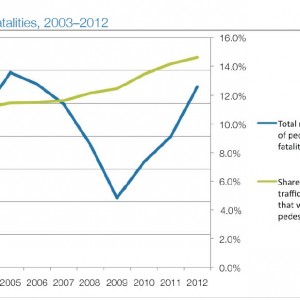 SMART GROWTH AMERICA
American communities are poised for a renaissance in walking. We're walking more often, for fun and to get to places in our neighborhood. We turn to WalkScore.com when figuring out where to live and our most walkable places often are among the most economically vibrant in the country. Hundreds of cities have adopted Complete Streets policies to ensure walking is at the forefront of our decisions regarding street design. Public health organizations from the U.S. Centers for Disease Control and the Office of the Surgeon General to the local doctor's office are encouraging us to get out for a walk for physical activity and to combat chronic disease. And indeed, we are walking: six out of 10 people walk for physical activity, and the share of adults who said they walk for transportation grew 6 percent from 2005 to 2010, according to the most recent data available. But we are still dealing with a legacy of roadways that fail to account for the safety of people on foot.
View this complete post...
Polls
Polls
Is the administration moving fast enough on Infra issues? Are Americans prepared to pay more taxes for repairs? Should job creation be the guiding determination? Vote now!
Blog
The Infra Blog offers cutting edge perspective on a broad spectrum of Infra topics. Frequent updates and provocative posts highlight hot button topics -- essential ingredients of a national Infra dialogue.
---