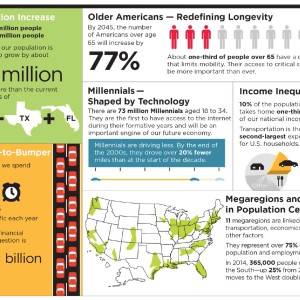 UNITED STATES DEPARTMENT OF TRANSPORTATION
In the race to build world-class transportation, America once set the pace. We used to have a big lead…But our lead has slipped away. We are behind…And it is not just that our infrastructure is showing its age—our country, in many ways, has outgrown it. If you drive a car, you now spend, on average, the equivalent of five vacation days every year sitting in traffic. If you drive a truck, highway congestion has made you an expert at navigating bumpy side roads—and you are not alone. Every year, trucks are losing $27 billion on wasted time and fuel.
View this complete post...