Posts Tagged 'NYC'
Wednesday, July 15th, 2015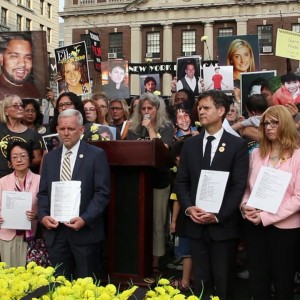 A crowd estimated at 1,000 people strong gathered in Union Square yesterday evening to remember victims of traffic violence and call for preventive action at the Vision Zero Vigil, organized by Transportation Alternatives and Families for Safe Streets.
The message was simple: Traffic crashes and the suffering they cause are preventable. We can't accept life-altering injuries and the deaths of loved ones as unavoidable "accidents." Robin Urban Smith was there to capture it for Streetfilms.
View this complete post...
Polls
Polls
Is the administration moving fast enough on Infra issues? Are Americans prepared to pay more taxes for repairs? Should job creation be the guiding determination? Vote now!
Blog
The Infra Blog offers cutting edge perspective on a broad spectrum of Infra topics. Frequent updates and provocative posts highlight hot button topics -- essential ingredients of a national Infra dialogue.
---