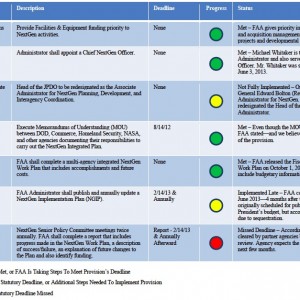 UNITED STATES DEPARTMENT OF TRANSPORTATION
OFFICE OF THE INSPECTOR GENERAL
The Next Generation Air Transportation System (NextGen) is a critical infrastructure project that will transform the Nation's air traffic management from ground-based radar to a satellite-based system with the goals of improving safety, meeting the expected demands for increased capacity, and improving efficiency. It is also FAA's most complex modernization effort to date and will require multibillion-dollar investments from both the Federal Government and airspace users to successfully implement. However, since its inception a decade ago, FAA's progress in implementing NextGen has not met the expectations of Congress and industry stakeholders, and key modernization efforts have experienced significant cost increases and schedule delays.
View this complete post...