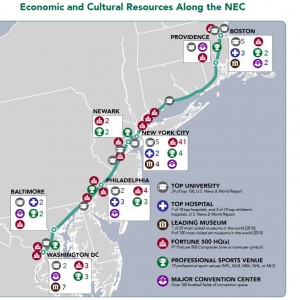 NORTHEAST CORRIDOR INFRASTRUCTURE AND OPERATIONS COMMISSION
The NEC Region is home to more than 51 million people and four of the ten largest metropolitan areas in the country. The NEC connects interdependent markets that collectively are a national and global force. Its economy is the fifth largest in the world, ahead of France and just behind Germany. The NEC Region is an international center for education, healthcare, technology, media, and finance, all industries widely expected to fuel economic growth in the 21st century. Research in this report finds that the NEC contributes to the productivity and livability of the Region in ways that increase the nation's global competitiveness.
View this complete post...