Posts Tagged 'MA'
Thursday, January 9th, 2014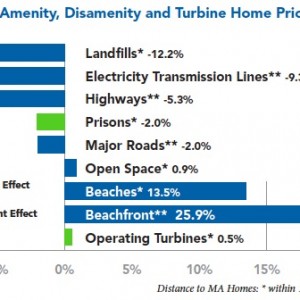 UNIVERSITY OF CONNECTICUT
LAWRENCE BERKELEY NATIONAL LABORATORY
This study investigates a common concern of people who live near planned or operating wind developments: How might a home's value be affected by the turbines? Previous studies on this topic, which have largely coalesced around non-significant findings, focused on rural settings. Wind facilities in urban locations could produce markedly different results. Nuisances from turbine noise and shadow flicker might be especially relevant in urban settings, where negative features, such as landfills or high voltage utility lines, have been shown to reduce home prices. To determine if wind turbines have a negative impact on property values in urban settings, this report analyzed more than 122,000 home sales, between 1998 and 2012, that occurred near the current or future location of 41 turbines in densely-populated Massachusetts communities.
View this complete post...
Polls
Polls
Is the administration moving fast enough on Infra issues? Are Americans prepared to pay more taxes for repairs? Should job creation be the guiding determination? Vote now!
Blog
The Infra Blog offers cutting edge perspective on a broad spectrum of Infra topics. Frequent updates and provocative posts highlight hot button topics -- essential ingredients of a national Infra dialogue.
---