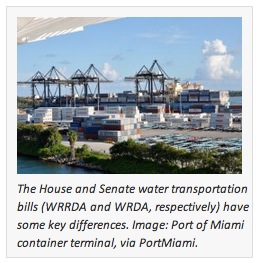 Transportation Issues Daily
The Senate passed its version of a maritime transportation bill (WRDA) last May. The House begins debating its bill (WRRDA) today, so we don't yet know what the final language will be…But based on the version coming to the House floor for debate, here are five key differences between the two proposals which have financial implications. The first four come courtesy of the Congressional Budget Office, in its Cost Estimate report. The CBO is nonpartisan and produces "independent analyses of budgetary and economic issues to support the Congressional budget process." The fifth difference is one we've written about before, and follow the CBO section.
View this complete post...