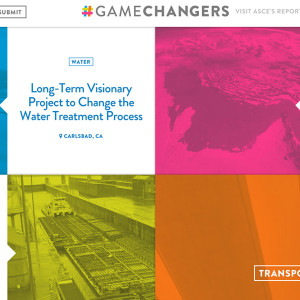 AMERICAN SOCIETY OF CIVIL ENGINEERS (ASCE)
#GameChangers is a compilation of the best and brightest innovations changing the infrastructure sector…We have surveyed engineers and public officials across the country to identify key game changers across the major infrastructure sectors – how we deliver drinking water, treat wastewater, build roads and bridges, design transit systems, generate and distribute energy, and move goods to market. We're at a critical moment in deciding how, and if, we will further invest in our infrastructure. Imagine what more we can do if we seize the opportunity to replicate these engineering innovations.
View this complete post...