Posts Tagged 'Illinois'
Thursday, April 7th, 2016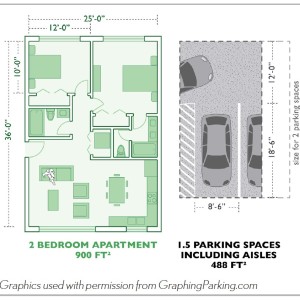 CENTER FOR NEIGHBORHOOD TECHNOLOGY
Late at night, when Chicago sleeps, apartment parking lots are at their peak usage. When CNT visited those lots and garages at 4:00 a.m., though, we found one third of the parking spaces sitting empty…This may not seem like a huge problem, but each indoor, underground parking space – one individual space – costs $37,300 to build. Multiply that by all of the spaces in the lot, and the price tag is huge. We think that wasted money and space should be allocated to housing instead.
View this complete post...
Polls
Polls
Is the administration moving fast enough on Infra issues? Are Americans prepared to pay more taxes for repairs? Should job creation be the guiding determination? Vote now!
Blog
The Infra Blog offers cutting edge perspective on a broad spectrum of Infra topics. Frequent updates and provocative posts highlight hot button topics -- essential ingredients of a national Infra dialogue.
---