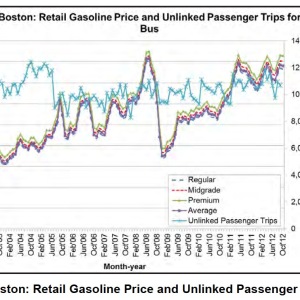 MINETA TRANSPORTATION INSTITUTE
Between 1999 and 2011 consumers in the U.S. experienced an unprecedented increase in and fluctuation of gasoline prices. In July 2008, gasoline prices exceeded $4 per gallon, marking the highest price in real value in U.S. history. In the same year, the nation's transit ridership reached 10.7 billion trips, the highest level since the Federal- Aid Highway Act of 1956…The rising gasoline prices were considered to have resulted in substantial changes in travel behavior in terms of trip taking, choices of travel destinations, selection of vehicles for higher fuel efficiency, or travel mode. A change in travel mode from driving to transit results in a higher level of transit demand and ridership for transit agencies. With this background, gasoline price increases in the last decade have generated substantial interest in developing a better understanding of how people respond to fluctuations in gasoline prices—particularly with respect to switching modes from driving to public transit—so that transit agencies can better prepare for higher demand for their services during periods of increased gasoline prices.
View this complete post...