Posts Tagged 'Barack Obama'
Tuesday, March 27th, 2012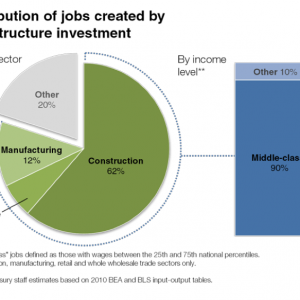 DEPARTMENT OF THE TREASURY
President Obama's FY 2013 Budget proposes a bold plan to renew and expand America's infrastructure. The plan includes a $50 billion up-front investment connected to a $476 billion six-year reauthorization of the surface transportation program and the creation of a National Infrastructure Bank. In support of this commitment, the Department of the Treasury, with the Council of Economic Advisers, has updated our analysis of the economic effects of infrastructure investment.
View this complete post...
Polls
Polls
Is the administration moving fast enough on Infra issues? Are Americans prepared to pay more taxes for repairs? Should job creation be the guiding determination? Vote now!
Blog
The Infra Blog offers cutting edge perspective on a broad spectrum of Infra topics. Frequent updates and provocative posts highlight hot button topics -- essential ingredients of a national Infra dialogue.
---