Archive for the 'Urban Planning' Category
Wednesday, August 24th, 2016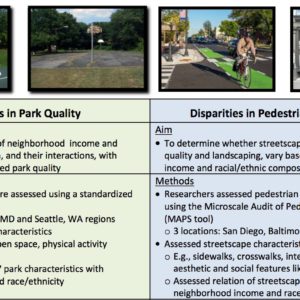 Low‐income and minority populations suffer disproportionately high rates of chronic disease. Accordingly, national and international authorities have made the elimination of health disparities a priority. Many factors can contribute to health disparities, including disparities in the quality of neighborhood environments. For example, having a neighborhood park and pedestrian‐friendly streets may impact opportunities to engage in physical activity – a behavior that can reduce risk of chronic disease.
View this complete post...
Polls
Polls
Is the administration moving fast enough on Infra issues? Are Americans prepared to pay more taxes for repairs? Should job creation be the guiding determination? Vote now!
Blog
The Infra Blog offers cutting edge perspective on a broad spectrum of Infra topics. Frequent updates and provocative posts highlight hot button topics -- essential ingredients of a national Infra dialogue.
---