Archive for the 'Urban Planning' Category
Monday, January 16th, 2017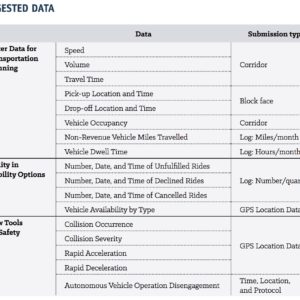 Data is the foundation of 21st century transportation systems. As new transportation technologies rapidly emerge they create data streams with vital information for management, proactive planning, and policymaking. These data created on city streets must be available to cities in an accessible format in order to support sustainable, accessible, and affordable transportation.
View this complete post...
Polls
Polls
Is the administration moving fast enough on Infra issues? Are Americans prepared to pay more taxes for repairs? Should job creation be the guiding determination? Vote now!
Blog
The Infra Blog offers cutting edge perspective on a broad spectrum of Infra topics. Frequent updates and provocative posts highlight hot button topics -- essential ingredients of a national Infra dialogue.
---