Archive for the 'Urban Planning' Category
Tuesday, March 24th, 2015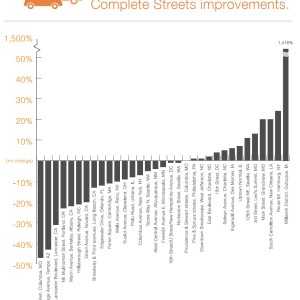 SMART GROWTH AMERICA
In this study of 37 projects, Smart Growth America found that Complete Streets projects tended to improve safety for everyone, increased biking and walking, and showed a mix of increases and decreases in automobile traffic, depending in part on the project goal. Compared to conventional transportation projects, these projects were remarkably affordable, and were an inexpensive way to achieve transportation goals. In terms of economic returns, the limited data available suggests Complete Streets projects were related to broader economic gains like increased employment and higher property values.
View this complete post...
Polls
Polls
Is the administration moving fast enough on Infra issues? Are Americans prepared to pay more taxes for repairs? Should job creation be the guiding determination? Vote now!
Blog
The Infra Blog offers cutting edge perspective on a broad spectrum of Infra topics. Frequent updates and provocative posts highlight hot button topics -- essential ingredients of a national Infra dialogue.
---