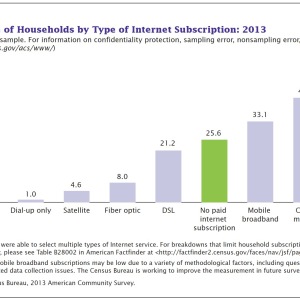 UNITED STATES CENSUS BUREAU
As part of the 2008 Broadband Data Improvement Act, the U.S. Census Bureau began asking about computer and Internet use in the 2013 American Community Survey (ACS). Federal agencies use these statistics to measure and monitor the nationwide development of broadband networks and to allocate resources intended to increase access to broadband technologies, particularly among groups with traditionally low levels of access. State and local governments can use these statistics for similar purposes. Understanding how people in specific cities and towns use computers and the Internet will help businesses and nonprofits better serve their communities as well.
View this complete post...