Archive for the 'Highway' Category
Tuesday, June 14th, 2016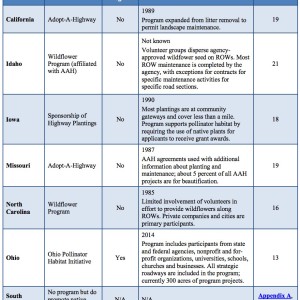 MINNESOTA DEPARTMENT OF TRANSPORTATION
A print survey was distributed to 19 state DOTs expected to have experience with maintaining pollinator habitat on highway ROWs, or partnerships with volunteers to maintain roadside landscapes, to gather information about the development and management of such programs. Representatives from nine Minnesota counties also received the survey to assess pollinator-related activities within Minnesota.
View this complete post...
Polls
Polls
Is the administration moving fast enough on Infra issues? Are Americans prepared to pay more taxes for repairs? Should job creation be the guiding determination? Vote now!
Blog
The Infra Blog offers cutting edge perspective on a broad spectrum of Infra topics. Frequent updates and provocative posts highlight hot button topics -- essential ingredients of a national Infra dialogue.
---