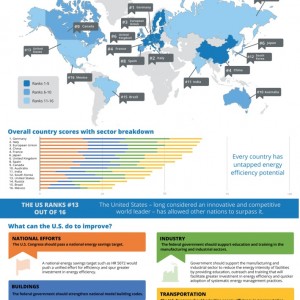 AMERICAN COUNCIL FOR AN ENERGY-EFFICIENT ECONOMY (ACEEE)
In this second edition of the International Energy Efficiency Scorecard, we analyze the world's 16 largest economies covering more than 81% of global gross domestic product and about 71% of global electricity consumption. We looked at 31 metrics divided roughly in half between policies and quantifiable performance to evaluate how efficiently these economies use energy. The policy metrics were scored based on the presence in a country or region of a best-practice policy…The United States has made some progress toward greater energy efficiency in recent years, particularly in areas such as building codes, appliance standards, voluntary partnerships between government and industry, and, recently, fuel economy standards for passenger vehicles and heavy-duty trucks. However, the overall story is disappointing.
View this complete post...