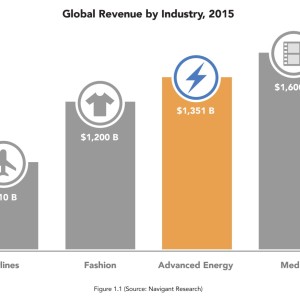 ADVANCED ENERGY ECONOMY
For 2015, the advanced energy market totaled nearly $1.4 trillion in estimated global revenue, up 8% over 2014 and 17% higher than 2011, counting only products for which we have five years of revenue data. The global market for advanced energy in 2015 was twice as big by revenue as the airline industry, bigger than the global fashion industry, and approaching worldwide spending on media and entertainment. (Figure 1.1) From 2014 to 2015, advanced energy revenue grew at more than three times the rate of the world economy overall.
View this complete post...