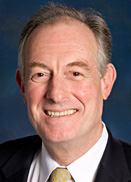 The American Council of Engineering Companies (ACEC) is the voice of America's engineering industry. David A. Raymond has been President of ACEC for the past 16 years, joining the Council in March 1999.
"Americans are very resilient people; they put up with a lot, their country is becoming more of a third-world country, and it's very unfortunate and I hate to say, the only time Americans are really going to wake up to this is when stuff absolutely disappears…So we need leaders who can point to the areas where we need to make much greater progress and we don't have those leaders. We need a public that is much better educated about infrastructure and other areas, and we don't have that."
View this complete post...