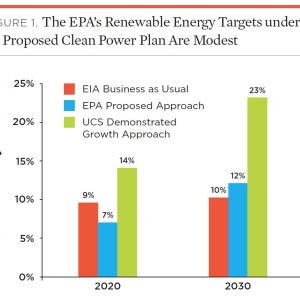 UNION OF CONCERNED SCIENTISTS
This brief outlines a better way to make the most of renewable energy in the Clean Power Plan, and to strengthen its state renewable energy targets as the cost of sources such as wind and solar power decline. The UCS proposal builds on the EPA's approach while utilizing the latest available market data, demonstrated rates of growth in renewable energy, and existing state commitments to deploy renewables. Using our recommended modifications, the EPA could nearly double the amount of cost-effective renewable energy in their state targets—from 12 per-cent of total 2030 U.S. electric sales to 23 percent (Figure 1, p. 3).
View this complete post...