Archive for the 'Bridges' Category
Wednesday, October 8th, 2014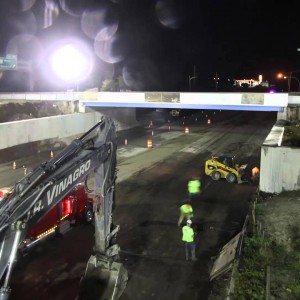 In August 2014 we completed replacement of the Barton Corner Bridge, which carries four lanes of I-95 plus two auxiliary lanes at a busy interchange with Route 2 on the Warwick/West Warwick line. Using accelerated bridge construction, we built two halves of the bridge on land adjacent to the overpass, and then moved them into place. This enabled us to build the bridge much faster compared with conventional construction methods, which would have taken twice the time. This approach also allowed us to do the work with no impact to Interstate traffic prior to installation.
View this complete post...
Polls
Polls
Is the administration moving fast enough on Infra issues? Are Americans prepared to pay more taxes for repairs? Should job creation be the guiding determination? Vote now!
Blog
The Infra Blog offers cutting edge perspective on a broad spectrum of Infra topics. Frequent updates and provocative posts highlight hot button topics -- essential ingredients of a national Infra dialogue.
---