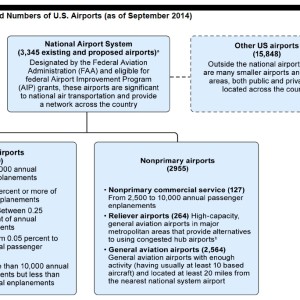 UNITED STATES GOVERNMENT ACCOUNTABILITY OFFICE
Airports' planned capital development costs for fiscal years 2015 through 2019 are estimated at $13 billion annually (in 2013 dollars). Larger airports account for 65 percent of the planned development. For AIP-eligible projects, the largest shares of planned development costs are for projects to reconstruct facilities ($2.2 billion), meet the Federal Aviation Administration's (FAA) airport design standards ($2.1 billion), and enhance airfield capacity ($977 million).
View this complete post...