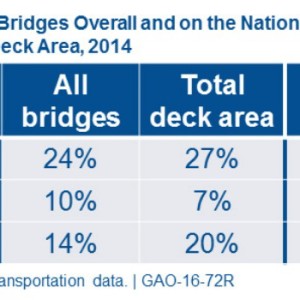 UNITED STATES GOVERNMENT ACCOUNTABILITY OFFICE
In summary, based on 2014 NBI data, the nation has 610,749 bridges. Of those bridges, 23 percent are on the NHS, and this 23 percent comprise 58 percent of the nation's total deck area. Nearly 25 percent of all bridges are deficient, with 10 percent categorized as structurally deficient and 14 percent categorized as functionally obsolete. Of bridges on the NHS, 4 percent are categorized as structurally deficient while 17 percent are categorized as functionally obsolete. State agencies own about half of all bridges and over 90 percent of NHS bridges.
View this complete post...