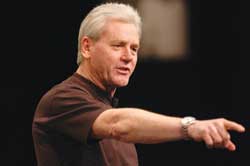 Terry O'Sullivan became the tenth General President of the Laborers' International Union of North America (LIUNA) on January 1, 2000, and is dedicated to growing his union's membership and market share.
"I think the American public is willing, ready, and able to have that conversation. It's been too many in Washington DC that have been licking their fingers and seeing which way the winds are blowing, that have been afraid to have that conversation."
View this complete post...