Archive for the 'Sustainability' Category
Thursday, June 12th, 2014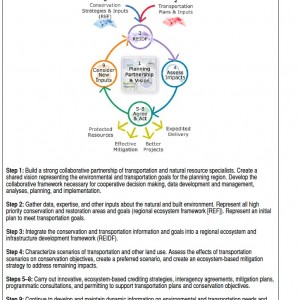 TRANSPORTATION RESEARCH BOARD
This project addresses the questions of how to (1) achieve interagency agreement on ecological solutions, (2) identify and leverage existing ways to increase predictability and assurance that credit will be allowed for addressing agency conservation and restoration priorities early in planning, (3) identify and leverage existing tools to increase resource agency confidence that mitigation commitments will be kept, and (4) make decisions last over time and across jurisdictions.
View this complete post...
Polls
Polls
Is the administration moving fast enough on Infra issues? Are Americans prepared to pay more taxes for repairs? Should job creation be the guiding determination? Vote now!
Blog
The Infra Blog offers cutting edge perspective on a broad spectrum of Infra topics. Frequent updates and provocative posts highlight hot button topics -- essential ingredients of a national Infra dialogue.
---