Archive for the 'Sustainability' Category
Wednesday, September 30th, 2015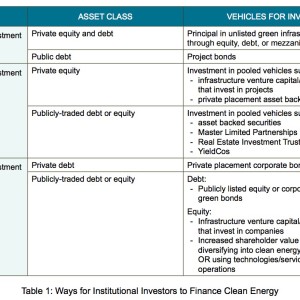 CERES
Institutional investors, and the corporations they invest in, are playing a growing role in financing the clean energy infrastructure needed to meet international climate goals. These investors and companies must support policymakers who seek an international agreement that will provide clearer market signals and greater certainty for needed clean energy investments.
View this complete post...
Polls
Polls
Is the administration moving fast enough on Infra issues? Are Americans prepared to pay more taxes for repairs? Should job creation be the guiding determination? Vote now!
Blog
The Infra Blog offers cutting edge perspective on a broad spectrum of Infra topics. Frequent updates and provocative posts highlight hot button topics -- essential ingredients of a national Infra dialogue.
---