Archive for the 'Sustainability' Category
Thursday, September 18th, 2014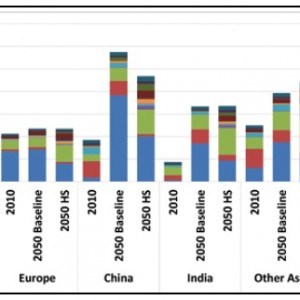 INSTITUTE FOR TRANSPORTATION & DEVELOPMENT POLICY
UNIVERSITY OF CALIFORNIA, DAVIS
This report is the first study to examine how major changes in urban transport investments worldwide would affect urban passenger transport emissions as well as mobility by different income groups. It starts with the most recent United Nations urban population forecasts and the most recent model framework and forecasts used by the International Energy Agency (IEA) for global mobility modeling. The study extends these with new research on the extent of various urban passenger transport systems in cities across the world, as well as new estimates of the extent of mobility by non-motorized transport and low power e-bikes.
View this complete post...
Polls
Polls
Is the administration moving fast enough on Infra issues? Are Americans prepared to pay more taxes for repairs? Should job creation be the guiding determination? Vote now!
Blog
The Infra Blog offers cutting edge perspective on a broad spectrum of Infra topics. Frequent updates and provocative posts highlight hot button topics -- essential ingredients of a national Infra dialogue.
---