Archive for the 'Rail' Category
Friday, July 22nd, 2016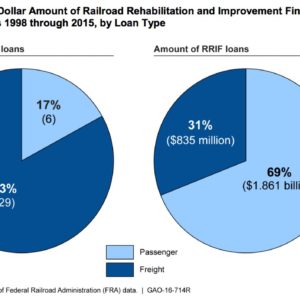 Financing the various rail infrastructure projects will be challenging. Congress has not funded the Federal Railroad Administration's (FRA) High-Speed Intercity Passenger Rail program—a program used to fund passenger rail projects—since fiscal year 2010 and appropriations to Amtrak have remained relatively steady at about $1.4 billion over the last 5 years. One potential source of funding is FRA's Railroad Rehabilitation and Improvement Financing (RRIF) program, which is a $35 billion loan and loan guarantee program to finance, among other things, freight and passenger rail facilities. Since program inception in 1998 about $2.7 billion in loans have been executed, and no loan guarantees have been made.
View this complete post...
Polls
Polls
Is the administration moving fast enough on Infra issues? Are Americans prepared to pay more taxes for repairs? Should job creation be the guiding determination? Vote now!
Blog
The Infra Blog offers cutting edge perspective on a broad spectrum of Infra topics. Frequent updates and provocative posts highlight hot button topics -- essential ingredients of a national Infra dialogue.
---