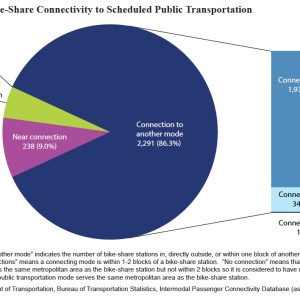 U.S. DEPARTMENT OF TRANSPORTATION
BUREAU OF TRANSPORTATION STATISTICS
Bike-share systems typically operate independently of local transit authorities. However, most bike-share docking stations (86.3 percent) can be found near local public transportation stops (transit bus, commuter rail, heavy rail, light rail, and transit ferry). These locations offer modal choice and the opportunity to connect between modes. Transit bus is the most typical connection, with 84.2 percent (2,236) of bike-share stations located a block or less from a transit bus stop.
View this complete post...