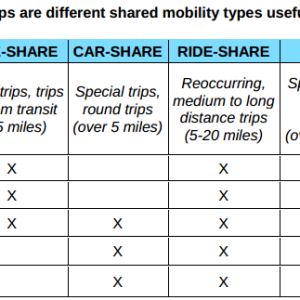 INSTITUTE FOR TRANSPORTATION & DEVELOPMENT POLICY
LIVING CITIES
In the last decade, shared mobility services have taken off across the United States as a complement to local public transit and an alternate to private car ownership…These services, which include car-share, bike-share and ride-share, maximize the use of vehicles by sharing them among multiple users, encourage more transport options, and aim to reduce transportation costs for users. While mass rapid transit moves the most people most efficiently and is the backbone for urban development, this paper is concerned mostly with recent advances in low-volume passenger carrier models in the United States. The purpose of this report is to highlight the potential for shared mobility systems such as bike-share and car-share to benefit low-income individuals.
View this complete post...