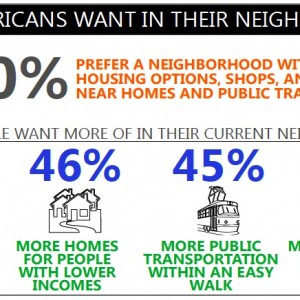 PARTNERSHIP FOR SUSTAINABLE COMMUNITIES
Many of our communities and housing options, built for a different time, are not what Americans want today. Research from the real estate industry shows that more people want to live in more convenient, walkable neighborhoods (Figure 1). A National Association of Realtors survey showed that half of Americans prefer a neighborhood with a variety of housing types, including multifamily and single-family homes; shops, restaurants, and amenities within walking distance; and nearby public transportation over a neighborhood with only single-family homes and few transportation options besides driving. Walkable communities are particularly important to millennials, who make up the largest percentage of the U.S. population; one research firm estimates that about 70 percent of them see walkability as "important" or "vital" when choosing a home.
View this complete post...