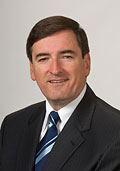 Mayor Sullivan was elected to the Anchorage Assembly in 1999 where he served three terms, including serving as Chairman during the 2006-2007 term. He was elected Mayor in 2009 and re-elected to his second and final term in 2012.
"Here we are, a country with pretty extreme debt, at these days $17 trillion and counting, so there's going to be more and more pressure not to spend money rather than pressure to spend more money…I think our dependency on federal dollars coming in is going to decline, and so we just have to start taking care of our own needs."
View this complete post...