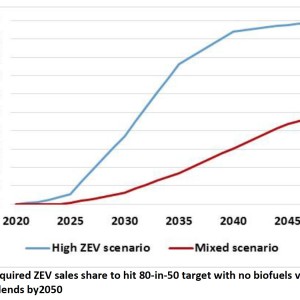 NATIONAL CENTER FOR SUSTAINABLE TRANSPORTATION
UC DAVIS INSTITUTE OF TRANSPORTATION STUDIES
The United States and California have both made commitments to an 80% reduction in energy-related greenhouse gases (GHGs) from 1990 levels by 2050 in order to help stabilize atmospheric concentrations of greenhouse gases. These commitments do not specifically target transportation or an individual transport mode.
This white paper reviews previous studies and provides a new investigation into the feasibility of achieving an 80% reduction in CO2-equivalent (CO2e) GHG emissions in the United States and California from trucks in the 2050 time frame ("80-in-50"). We assess the technological and economic potential of achieving deep market penetrations of low-carbon vehicles and fuels, including vehicles operating on electricity, hydrogen, and biofuels.
View this complete post...