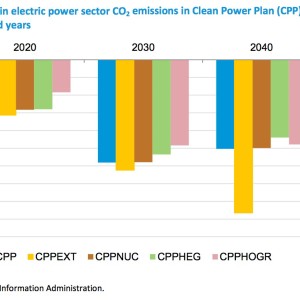 UNITED STATES ENERGY INFORMATION ADMINISTRATION
Power sector CO2 emissions declined by 363 million metric tons between 2005 and 2013, due to a decline in coal's generation share and growing use of natural gas and renewables, but the CO2 emissions are projected to change only modestly from 2013 through 2040 in the 3 baseline cases used in this report. Relative to the AEO2015 Reference case, the projected emissions trajectory is somewhat lower in the High Oil and Gas Resource case baseline, which has cheaper natural gas, and somewhat higher in the High Economic Growth case, which has higher electricity use.
View this complete post...