Archive for the 'Local' Category
Monday, May 11th, 2015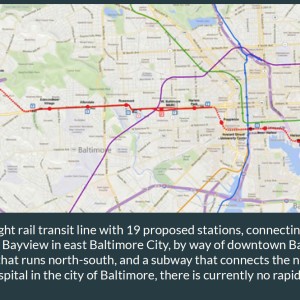 TRANSPORTATION FOR AMERICA
The two major rail transit lines planned for Maryland represent a significant investment in the state's future and economy. Drawing from experience across the nation, this report attempts to assess the full range of potential economic benefits from construction of the Purple Line, connecting Maryland's Washington, D.C. suburbs, and the Red Line, providing east-west connections between Baltimore and its suburbs. Given the number of regions across the country contemplating similar investments, we offer this report as something of a template for how to make a comprehensive assessment of economic impacts.
View this complete post...
Polls
Polls
Is the administration moving fast enough on Infra issues? Are Americans prepared to pay more taxes for repairs? Should job creation be the guiding determination? Vote now!
Blog
The Infra Blog offers cutting edge perspective on a broad spectrum of Infra topics. Frequent updates and provocative posts highlight hot button topics -- essential ingredients of a national Infra dialogue.
---