Archive for the 'Jobs' Category
Tuesday, January 6th, 2015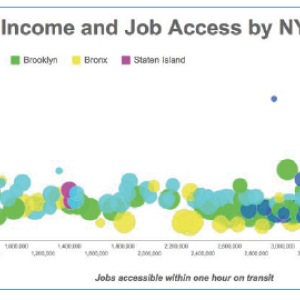 NYU WAGNER RUDIN CENTER FOR TRANSPORTATION POLICY & MANAGEMENT
The Rudin Center ranked New York City's 177 neighborhoods according to the number of jobs accessible from the neighborhoods by transit, within 60 minutes and completed by 9:00 a.m.on a Monday morning. The number of jobs accessible in this timeframe ranged from 42,275 (South Staten Island) to 4,839,253 (North Chelsea). Our analysis reveals substantial variation in levels of transit access across New York affect residents' employment levels, travel modes and incomes. Most notably, the rankings result in a swoosh-shaped relationship between transit and income: the highest incomes are connected to the areas with the most access, and low transit access still provides average incomes, because residents travel by private car rather than transit.
View this complete post...
Polls
Polls
Is the administration moving fast enough on Infra issues? Are Americans prepared to pay more taxes for repairs? Should job creation be the guiding determination? Vote now!
Blog
The Infra Blog offers cutting edge perspective on a broad spectrum of Infra topics. Frequent updates and provocative posts highlight hot button topics -- essential ingredients of a national Infra dialogue.
---