Archive for the 'Inland Waterways' Category
Wednesday, March 19th, 2014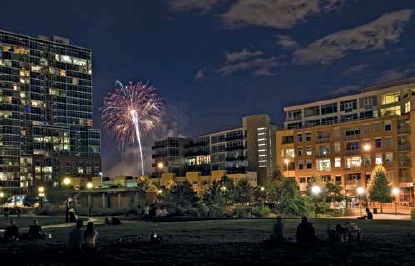 URBAN LAND INSTITUTE
Riverfront Park is the result of a 25-year collaborationto create a viable and vibrant urbanresidential community in downtown Denver. Builtunder a form-based zoning code, the developmentencompasses 1,859 privately developed,for-sale, for-rent, and affordable homes, withbuildings first opening in 2001 and with constructionstill underway in 2014. The neighborhood fits within the city's grid and is connectedto surrounding areas by four pedestrian bridgesthat cross railroad tracks, an interstate highway,and a river, each funded through a combinationof public and private investment. Built on abrownfield and former rail yard, the project wasan early model of sustainability. Today, residentscan play, wander, skate, swim, and walk their dogs along dedicated nonvehicular pathways orin four different parks built by the state, the city,the developer, donors, and residents.
View this complete post...
Polls
Polls
Is the administration moving fast enough on Infra issues? Are Americans prepared to pay more taxes for repairs? Should job creation be the guiding determination? Vote now!
Blog
The Infra Blog offers cutting edge perspective on a broad spectrum of Infra topics. Frequent updates and provocative posts highlight hot button topics -- essential ingredients of a national Infra dialogue.
---