Archive for the 'Highway' Category
Tuesday, January 28th, 2014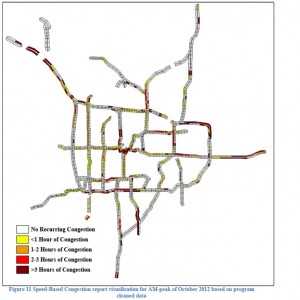 MINNESOTA DEPARTMENT OF TRANSPORTATION
UNIVERSITY OF MINNESOTA DEPARTMENT OF CIVIL ENGINEERING
The Twin Cities freeway network is a densely instrumented and growing transportation system. As the Minnesota Department of Transportation (MnDOT) pursues a performance-based management strategy to monitor the health of the network and make planning and management decisions, the data from this vast network is being examined using a variety of methods.
View this complete post...
Polls
Polls
Is the administration moving fast enough on Infra issues? Are Americans prepared to pay more taxes for repairs? Should job creation be the guiding determination? Vote now!
Blog
The Infra Blog offers cutting edge perspective on a broad spectrum of Infra topics. Frequent updates and provocative posts highlight hot button topics -- essential ingredients of a national Infra dialogue.
---