Archive for the 'Global' Category
Monday, July 6th, 2015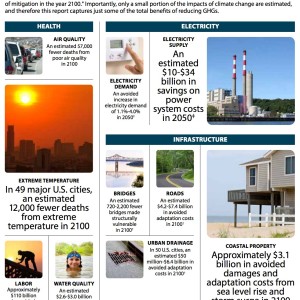 UNITED STATES ENVIRONMENTAL PROTECTION AGENCY
Actions can be taken now to reduce GHG emissions and avoid many of the adverse impacts of climate change. Quantifying the benefits of reducing GHG emissions (i.e., how GHG mitigation reduces or avoids impacts) requires comparing projections of climate change impacts and damages in a future with policy actions and a future without policy actions. Looking across a large number of sectors, this report communicates estimates of these benefits to the U.S. associated with global action on climate change.
View this complete post...
Polls
Polls
Is the administration moving fast enough on Infra issues? Are Americans prepared to pay more taxes for repairs? Should job creation be the guiding determination? Vote now!
Blog
The Infra Blog offers cutting edge perspective on a broad spectrum of Infra topics. Frequent updates and provocative posts highlight hot button topics -- essential ingredients of a national Infra dialogue.
---