Archive for the 'Funding' Category
Thursday, April 30th, 2015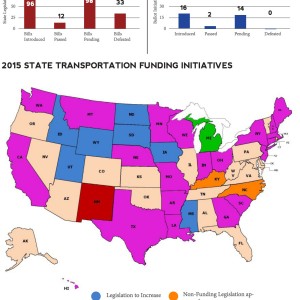 TRANSPORTATION INVESTMENT ADVOCACY CENTER
Nine states— La., Minn., Mo., Neb., N.H., N.J., S.C., Texas, Wash.— are currently considering legislation to increase their gas tax or sales tax on gasoline.
Three states— Conn., La., and Texas— are currently considering legislation to protect their transportation funds from diversions.
Three states— Ark., Mich., and Mo.— have pending legislation to convert the flat-rate excise tax on fuel entirely to a variable-rate tax. Additionally, a bill in Maine proposes indexing the flat gas tax to the Consumer Price Index.
View this complete post...
Polls
Polls
Is the administration moving fast enough on Infra issues? Are Americans prepared to pay more taxes for repairs? Should job creation be the guiding determination? Vote now!
Blog
The Infra Blog offers cutting edge perspective on a broad spectrum of Infra topics. Frequent updates and provocative posts highlight hot button topics -- essential ingredients of a national Infra dialogue.
---