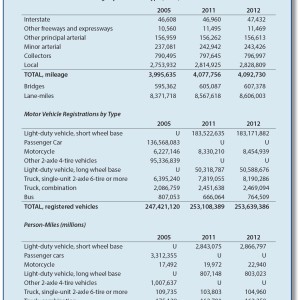 UNITED STATES DEPARTMENT OF TRANSPORTATION
BUREAU OF TRANSPORTATION STATISTICS
Over 4 million miles of roads, more than 19,000 public and private use airports, about 140,000 miles of freight and passenger railroads, 25,000 miles of navigable waterways, and 2 million miles of pipelines connect the Nation's people and businesses across the continent and with the rest of the world…The estimated value of U.S. transportation assets in 2012 was $7.7 trillion. The public owns 51.2 percent of the total transportation asset value, mostly highways and streets, but also publicly held airports, waterways, and transit facilities. Private companies own 31.2 percent of transportation assets, including railroads, pipelines, trucks, planes, and ships.
View this complete post...