Archive for the 'Funding' Category
Friday, August 28th, 2015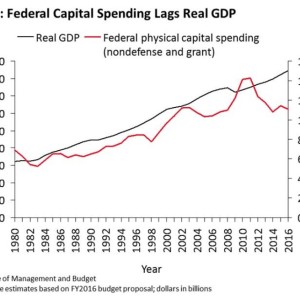 MCGRAW HILL FINANCIAL
GLOBAL INSTITUTE
We review recent trends in federal infrastructure spending and the policy case for dynamic scoring of revenue and spending legislation. The use of dynamic scoring depends upon the magnitudes of near‐term impacts on economy‐wide spending and the long‐run impacts on productivity. We conclude that federal infrastructure investment should be dynamically scored…A simple example suggests that $100 billion in new infrastructure spending could generate an extra $62.5 to $165.5 billion in national output over the next twenty years, based on a range of scenarios. Assuming a 20 percent effective tax rate, this $100 billion infrastructure investment would generate a 20‐year revenue offset ranging from $12.5 to $33.1 billion.
View this complete post...
Polls
Polls
Is the administration moving fast enough on Infra issues? Are Americans prepared to pay more taxes for repairs? Should job creation be the guiding determination? Vote now!
Blog
The Infra Blog offers cutting edge perspective on a broad spectrum of Infra topics. Frequent updates and provocative posts highlight hot button topics -- essential ingredients of a national Infra dialogue.
---