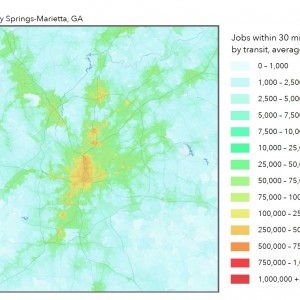 ACCESSIBILITY OBSERVATORY, UNIVERSITY OF MINNESOTA
Accessibility is the ease of reaching valued destinations. Accessibility can be measured for various transportation modes, to different types of destinations, and at different times of day. There are a variety of ways to define accessibility, but the number of destinations reachable within a given travel time is the most comprehensible and transparent—as well as the most directly comparable across cities. This report focuses on accessibility to jobs by transit. Jobs are the most significant non-home destination, but it is also possible to measure accessibility to other types of destinations. Transit is used for an estimated 5% of commuting trips in the United States, making it the second most widely used commute mode after driving.
View this complete post...